Since I have written a post on how to do goal setting, I thought it would be only right to blog my 2012 goals for you all to see. Not only will this allow you to further understand what I meant, but it will hold me accountable as well.
If I don't complete 80 percent of my goals I give you permission to give me the ultimate atomic wedgie...
This is an exciting time of year for us all, One year is a closing, while a new one is beginning.
The world is in our hands, and if the world does happen to end.. ::Gasp:: I want to make sure I kick it's ass on my departure.
And no, I do not believe it is going to end...Just trying paint a picture.
We are all put on this earth for a short time, We must take full advantage of it...
Without further ado... Here is how I plan to Kick 2012's ass.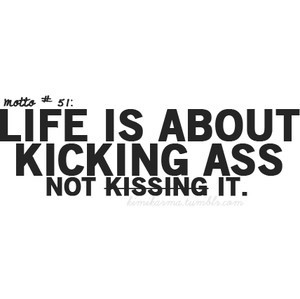 MY 2012 FITNESS AND BUSINESS GOALS
Business
1. Double My Income
Bring in a minimum of 2 new clients a month.
Build CFA and personal Facebook pages--consistency
Attend more local events. minimum 1 per week
Minimum 1 video testimonial a week.
Begin Speaking engagements: 4 engagements over the year
Fill Females Git Fit, Start a second set of sessions.

Testimonials!
Local Events.
Facebook!

Start a strength class for men.

Advertise, Advertise, Advertise
Create plan of action before implementation.
Facebook!

Offer online coaching.

Free trials.
Market it.
Doesn't have to stay local, spread my wingspan.
2. Build CFA
Write more

Blog minimum once per week.
Write articles and get published.
Work on writing skills with coaches.

Enhance the team effectiveness

Send weekly articles to CFA team.
Plan marketing days with team members
Bring discussion topics to every single meeting.
Retain all of my one on one clients (not necessarily just as one on one), 85 percent of my group training.

Go above and beyond the call of duty
Food logs
Nutrition help
Friendships
Come in every day with energy
Keep track of programs
Get results
3. Work More Effective
Rest more

Create a tighter schedule so that my hours are not spread out as wide.
Sleep a minimum of 6 hours at least 4 times a week.

While at work, work more.
Do my to do list every day

complete at minimum 85 percent of it.

Eat consistently
4. Continued education
Perform better 1-day
Perform better 3-day
FMS
Open to suggestions
Continue to learn from and build network with other trainers.
Read at least 1 book a month, not including school reading.

Motivational
Nutrition
Training
Anatomy
Fitness Goals
Weight up to 175

Gain lean mass
Caloric Intake
Clean eating: Proteins, Vegetables, Fruit, Nuts, Seeds, Limited bread.

Improve Hip mobility/Shoulder Mobility (Stretch 2-3 times a week).
Train 4 times a week.
For my lifts the only thing to do in order to improve it to keep on lifting, foam rolling, stay away from injury and push myself. Here are my goals:
Conventional Deadlift 400 lbs.
Romanian Deadlift 350 lbs
Front Squat 300 lbs
FESS 225 lbs
Pull ups- 80lbs
Chin ups 100 lbs
Drink enough water everyday!
My goals are set, I am focused, I am ready. How about you?
Have a great day, I hope this can help you understand goal setting a little bit more.
Work hard, train hard and let's kick 2012's ass!
God loves you, Mikey loves you, so love yourself!